Looking for a way to use up carrot pulp leftover from juicing? Here is one way to do so. Hotter temperatures here on Maui left me with a craving for a light lunch, specifically falafel and a quinoa tabbouleh salad. This recipe has only 7 ingredients, most of which you may have in your pantry.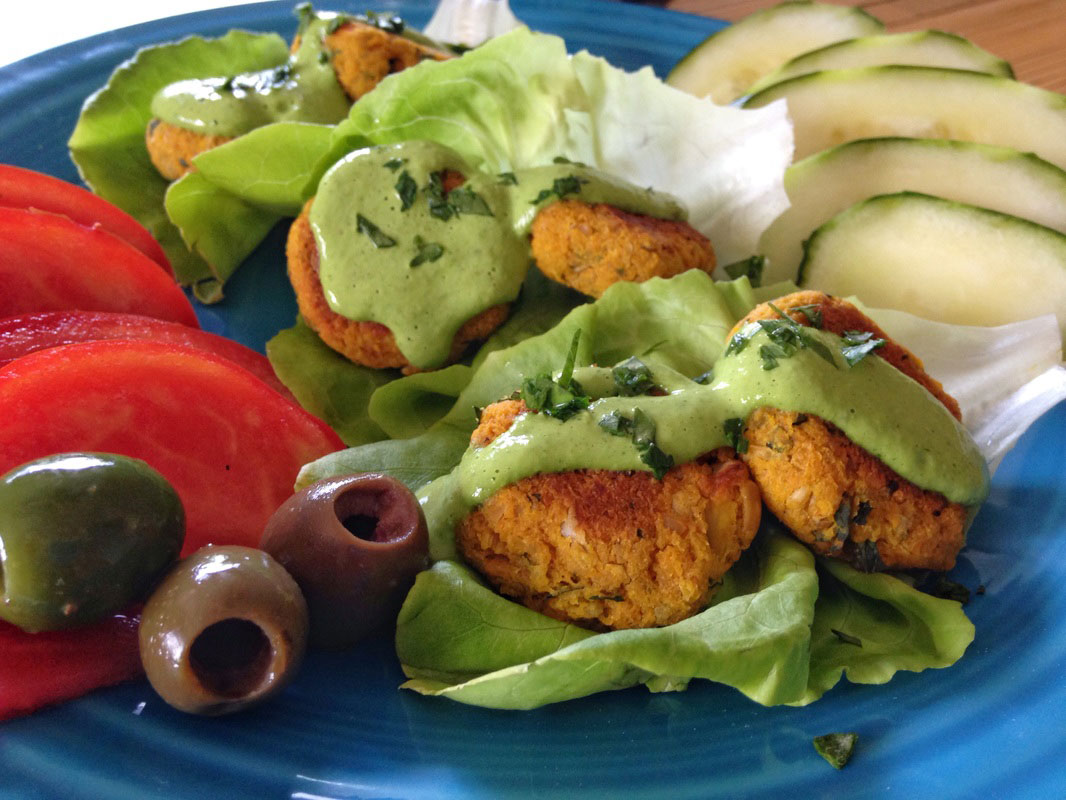 Ingredients:
½ C carrot pulp, leftover from juicing
½ C cooked garbanzo beans
1 Tbsp. tahini
2 cloves garlic
2 Tbsp Extra Virgin Olive Oil
2 Tbsp. Fresh Parsley, rough chop
Sea Salt and Black Pepper – to taste
Equipment Needed:
1 baking sheet
parchment paper or silpat non-stick baking sheet
Food Processor or high speed blender, such as a Blendtec
Mixing Bowl
Spatula
Method:
Pre-head your oven to 400 degrees F.
Have a sheet pan ready lined with parchment or silpat, lightly oiled.
In a food processor or blender combine the garlic, tahini and olive oil. Blend until the garlic is smooth. Add in the garbanzo beans and carrot pulp, and a touch of salt and pepper and pulse until you reach the desired consistency. I like some texture left in the beans so it only took a few pulses. Taste the mixture and add more salt and pepper if needed.
Once the desired consistency is achieved, scrape out the food processor or blender into the mixing bowl. At this time, do a final taste test and add more salt, pepper or minced garlic if needed. Using your hands shape the falafel into small balls and flatten into a disc shape. Place onto your baking sheet. I made the falafel on the small size, using about a tablespoon and a half or less per ball. It made 12 falafel. Once finished, place the sheet tray with falafel into your preheated oven. Set the timer for 25 minutes.
Check the falafel after 25 minutes and they should be a nice golden brown color on the bottom. Allow to cool, or try one while still warm from the oven.
For serving, I enjoyed mine in organic butter lettuce with a green tahini sauce, and fresh tomato and cucumber on the side.
This recipe can easily be doubled or tripled if you have a lot of carrot pulp to use up. Feel free to add different variations of fresh herbs and spices! Let me know what you think, and please tag me on instagram if you make this dish @healthymauichef!
https://healthymauichef.com/wp-content/uploads/Carrot-Garbanzo-Falafel-Lettuce-Wrap-Recipe.jpg
800
1066
adelleAdmin5
https://healthymauichef.com/wp-content/uploads/logoZ.png
adelleAdmin5
2021-05-27 08:59:09
2023-04-20 09:08:31
Carrot-Garbanzo Falafel Lettuce Wraps